Embracing all inherent features of the established Rafnar search-and-rescue, coast-guard, and naval capabilities, the Rafnar Leisure is the ideal boat for the leisure and recreation market. Even though these vessels were designed for the world's most demanding conditions, they are at the same time perfect for leisure cruising in more hospitable waters.
The ÖK Hull with its drastic reduction in slamming, bouncing, and its essential shock-mitigating qualities, provides the perfect platform for all of the additional comfort and luxury features required for a multi-purpose yacht tender, day cruiser, or stand-alone explorer.
ÖK HULL

TECHNOLOGY

RAFNAR 40 - 45
Less Slamming
Smooth and comfortable ride due to limited wave slamming, resulting in reduced risk of injury, lower passenger and crew fatigue and related medical, disability, and other costs.
Reduced Sliding
Kayma veya takılma olmadan, eşsiz hassasiyet ve yüksek hızlı performans sağlar.
Stability and Payload
High stability and balance when idle or full throttle and high payload capacity without compromising speed.
Extended Life Span
Reduced mechanical & equipment wear from minimal wave slamming, resulting in lower maintenance, replacement rates, and other operating expenses.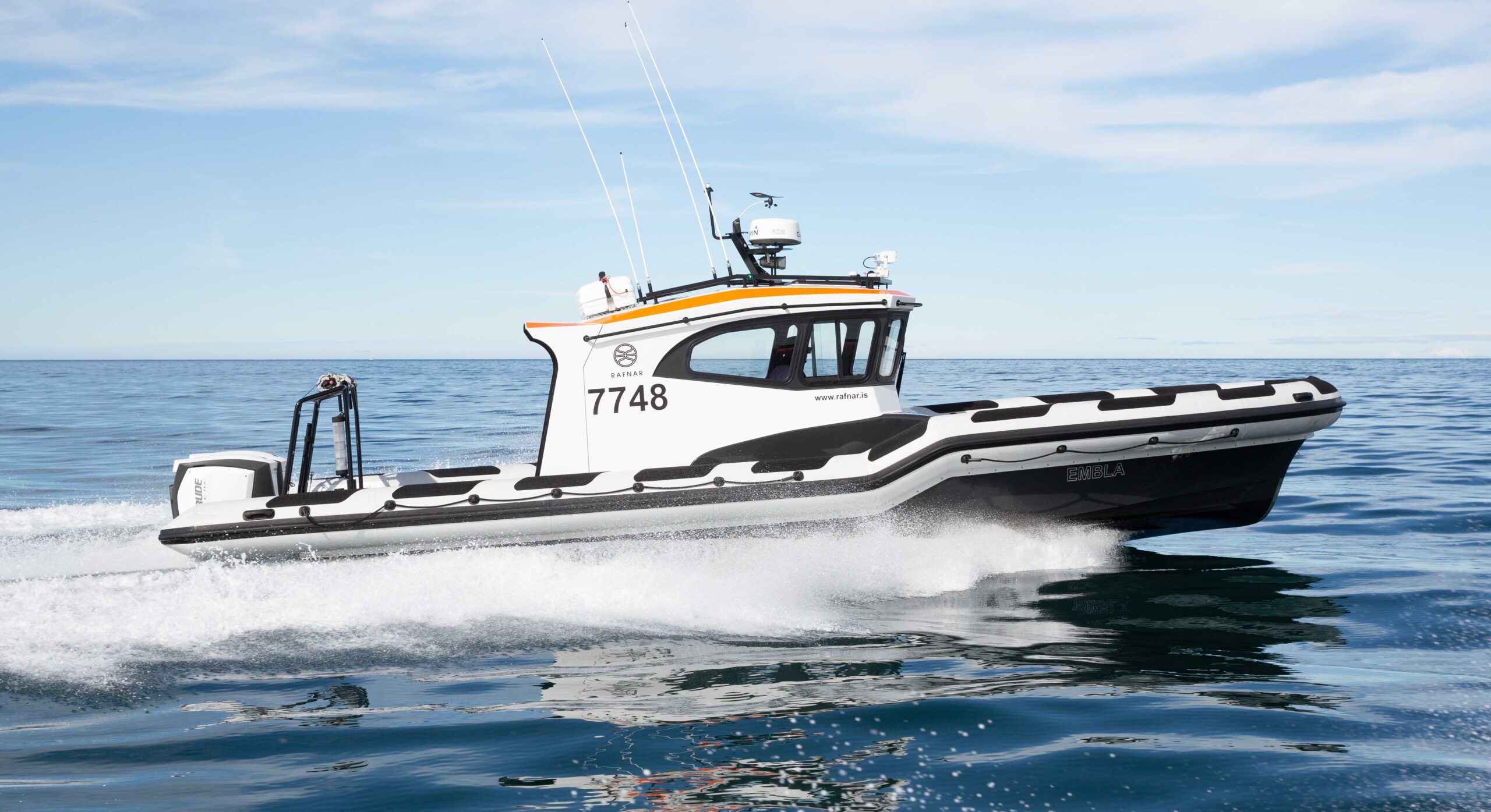 RAFNAR LEISURE IS THE CHOICE 
THE PERFECT FIT
FOR EVERY NEED
EXTERIOR DESIGN
Rafnar Leisure doesn't only have a genre-defining hull but also a top exterior to match it. It is not only incredibly beautiful but also safe and practical. Combining our decades of experience cruising in some of the world's toughest conditions, we offer a variety of sizes and cabin options for every climate, taste and budget. Whether you are looking to cruise the polar regions or cross the equator, Rafnar offers a configuration that suits your needs.
BUILT FOR ROUGH CONDITIONS
PERFECT FOR ALL CONDITIONS
TARGA
CABIN
CROSS CABIN
A VERSION

FOR EVERY NEED

RAFNAR 40 - 45
KEY

HIGHLIGHTS

RAFNAR 40 - 45
Built To Last
All Rafnar Leisure boats are built using only the highest quality vacuum-infused glass fiber. Drawing their heritage from Coast Guards, SAR teams and Special Forces around the world, our vessels are incredibly rugged, heavy-duty, and manufactured to some of the highest standards in the industry, offering long-lasting reliability and performance.
Smooth Rider
With a smoother ride due to the ÖK Hull's game-changing capabilities, you can rest assured you arrive at your destination in tip-top shape. All the versions of the Leisure range are also fitted with shock-absorbing seats, to further improve cruising comfort, reduce fatigue, and ensure driving stability and safety in all weather conditions.
Easy-To-Navigate
Safely walk around the boat in comfort, with sturdy grips and fittings. Every aspect of the Rafnar Leisure range has been fine-tuned for safety, stability, and durability. With years of experience cruising in some of the world's most demanding conditions, we have designed through iteration, a deck that is both functional and easy to navigate.
Spacious Foredeck
Plenty of storage space in the foredeck with an option for a seating area. Why not add two storage compartments with a total capacity of 800L, offering room for anything you might need on board. Pack your bags for fun or longer journeys, with a Rafnar boat everything is possible.
Cosy Aft Deck/h4>
Go water-skiing in the morning and have a glass of wine in the evening. The seating and dining area with a table makes for a perfect place to socialize. Ideal choice for memorable moments out on the water with friends and family.
Driver Experience
Excellent vision at all times due to the hull's flat rise to the plane. With all controls accessible at your fingertips Rafnar boats are both an incredible ride for seasoned seafarers as well as easily accessible for those taking the helm for the first time.
IT'S WHAT'S INSIDE
THAT COUNTS
INTERIOR DESIGN
The cabin versions of the Rafnar Leisure are ideally suited for passenger transportation, recreation, and adventure on the water like longer distance exploration voyages in often changeable and difficult conditions. The spacious and luxurious cabin of the Rafnar 40-45 can accommodate up to 8 people with unlimited features and many different layouts to choose from.
Our design team is always standing by, to help outfit your boat with everything you need, to fuel your next adventure.